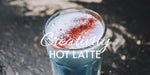 If you're in need of inspiration add a CREATIVITY twist to your daily routine.
Ingredients | 1 serving:
1.5 teaspoons | BLUE GINGER Powder
200ml | plant-based milk
Best Combo: Almond, Coconut or Oat milk.
Directions:
Add the powder and the plant-based milk to a medium size sauce pan.
Then turn on to medium heat. This helps dissolve the powder so you get the most function out of your beverage.
Use the

 

Milk Frother

 

to blend until fully dissolved.
Pour into a mug and enjoy!